BETTER PRODUCTS 
At O'Neill Europe, we understand that our choice of materials determines a large part of the overall product impact on the environment. We are committed to working with responsibly grown and manufactured raw materials to preserve resources and respect human and animal rights.
As part of our commitment, we have compiled our Preferred Material List, based on impact scoring and in accordance with our values. When a product's main fabric composition includes at least 50% of preferred materials, we qualify such a product as O'Neill Blue. We closely monitor any new data and material research that becomes available, and if relevant, we will adjust our Preferred Materials List accordingly. Our suppliers are committed to adhering to O'Neill Europe's quality standards, requirements and the Restricted Substances List.   

Furthermore, we are working towards ensuring that 90% of our collection meets the full product-weighed sustainable material criteria by 2030. Under these new criteria, we will assess a product's entire fabric composition weight, and the product as a whole must demonstrate a minimum use of 30% preferred materials to qualify as O'Neill Blue. We will begin implementing these new criteria in 2024 and provide more detailed information on how they will be measured.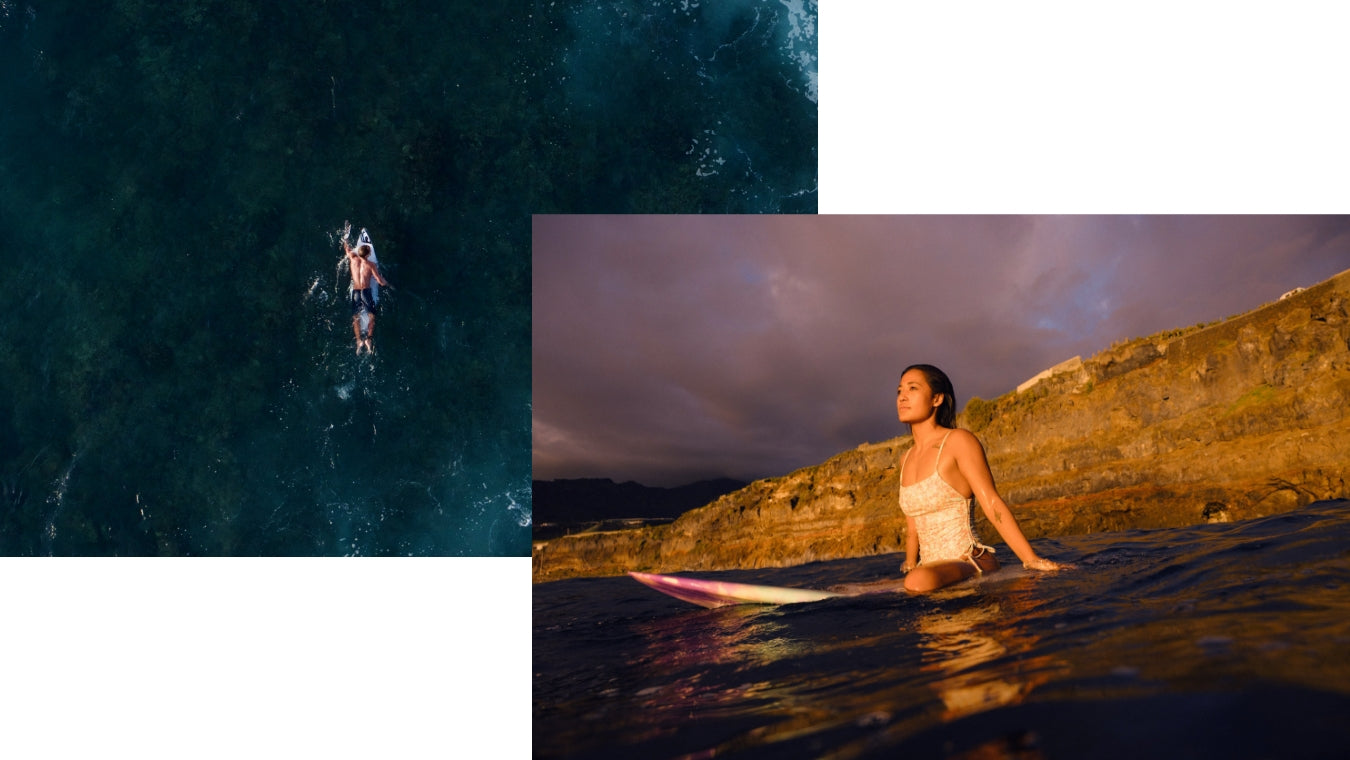 OUR SUSTAINABLE MATERIALS AND PARTNERS
Our materials are carefully selected to reduce the overall environmental impact of our products. We are committed to ensuring that all raw materials are grown and manufactured responsibly in a way that preserves resources and respects human and animal rights.
Approximately 42% of our garment designs are made with cotton. Currently, all the cotton used in the O'Neill garments is sourced as 'more sustainable cotton', which encompasses cotton sourced through Better Cotton, organic cotton, and recycled cotton. In the current collections, we used the following types of cotton:
O'Neill Europe partners with Better Cotton to improve cotton farming globally. Better Cotton trains farmers to use water efficiently, care for the health of the soil and natural habitats, reduce the use of the most harmful chemicals and implement the principles of decent work.

Better Cotton is sourced via a chain of custody model called mass balance. This means that Better Cotton is not physically traceable to end products, however, Better Cotton Farmers benefit from the demand for Better Cotton in equivalent volumes to those we 'source'. Better Cotton's mission is to help cotton communities survive and thrive while protecting and restoring the environment.

By choosing cotton products from O'Neill, you're supporting responsible cotton production through Better Cotton. See bettercotton.org/learnmore for details.
We use organic cotton to ensure our oceans, rivers and lakes remain free from harmful toxins. Organic cotton is​ able to promote healthier soils while caring for farmer health by using natural processes over artificial ones.
We use recycled polyester to give a second life to materials that would otherwise end up in landfills or the ocean. When compared to virgin polyester, recycled polyester can achieve the same finished quality using less energy and reduced CO2 emissions.
As virgin polyamide is known for its difficulties breaking down, we consider its reuse as a solution towards less waste. Additionally, by using recycled fibres, fewer greenhouse gasses are emitted, and water and energy are conserved in the process. 
We use REPREVE® made from recycled PET bottles cleaned and woven into our yarns. The yarn is then spun using the highest quality recycled fibre chips and flakes certified by U TRUST® to verify claims. This form of synthetic fibres relies on fewer greenhouse gases and conserves water and energy in the process.
BY USING REPREVE, O'NEILL DIVERTED MORE THAN 19.542.875 PLASTIC BOTTLES FROM LANDFILLS SO FAR.  
MAN-MADE CELLULOSE FIBRES  
Cellulose, also known as regenerated cellulosic fibres, is derived from wood fibre pulp, making it a renewable source that can be broken down in nature. However, conventional, non-certified, or non-trademarked versions of these fibres can significantly contribute to global deforestation and often lack effective controls on chemical use during production. When we source man-made cellulosic fibres, like viscose or modal, for our garments, we ensure they are always sourced through one of the following trusted partners:

Livaeco by Birla Cellulose™ - Viscose 
Birla Cellulose's Branded fibres are derived from natural, renewable resources and manufactured through a stringent EU Best Available Technique (EUBAT) compliant to closed-loop process. They can be traced to their origin, contributing to a greener and more ethical environment. Fabrics and garments made with Livaeco™ are soft and comfortable and drape beautifully.

Lenzing Modal™ - Modal 
Modal is durable like cotton and has shine, softness, and a lovely drape of viscose. Modal is made from cellulose, wood pulp, and beech by the fibre manufacturer Lenzing. Lenzing Modal™ fibres are mostly extracted from sustainable beech wood by an accredited integrated pulp-to-fibre process, which is self-sufficient in energy and recovers co-products from wood-component parts. This flexible fibre is renowned for its exceptional softness. 

SeaCell™ - Lyocell 
Real seaweed is permanently embedded into the fibre during the spinning process of the Lyocell/viscose fibre. The base is the Lyocell or viscose manufacturing process using cellulose (wood pulp), typically processed from beech trees. Seaweed is then added (in powder form) to the liquid stage of dissolved cellulose. The solution is spun into fibres, cured in water, and processed into staple fibres. All processed liquids and water are recycled and reused. 
Even though O'Neill Europe only has few styles containing wool materials, we have set a strict animal welfare policy in our purchasing requirements, in which we have stated that all animals must be cared for in accordance with the EU principles' "Five Freedoms" for animal care.

To guarantee this, all virgin wool we use should be either organic or certified on yarn level according to the Responsible Wool Standard (RWS) or an equivalent standard.

Please see our sustainability report for more details on our policy and its principles.
BLOOM™ algae biomass is a natural component added to the existing Ethylene-vinyl acetate (EVA) base of our sandal footbed. BLOOM reclaims harmful algae by turning it into something useful. The company blends algae, harvested from environmental restoration and protection projects in North America and Asia, with non-biodegradable materials to maintain product durability and prevent the release of captured carbon. Products containing BLOOM™ materials are certified via the BLOOM™ certification process. See https://www.bloommaterials.com/ for details. 

POLYGIENE - FOR MINDFUL LIVING ™
We launched our partnership with ingredient-brand Polygiene® in 2021. Polygiene's odor-control technologies keep your products fresher for longer. Hence, you don't need to wash the product that often – saving water and energy as well as enhancing the lifespan of a garment.

How it works
Polygiene StayFresh ™ technology, based on silver salt / silver chloride, inhibits the growth of odor-causing bacteria in textiles, thus eliminating unpleasant odors at the source. Polygiene OdorCrunch™, based on sand (silica) and Swedish water, absorbs any kind of environmental odors that may be trapped in your garment.

Both technologies are bluesign® and Oeko-tex® Eco Passports approved and treated products can be recycled.

Wear more, wash less and make a difference.
Sharing an ongoing commitment to innovation and crafting meaningful product, we've teamed up with the Amsterdam-based textile platform BYBORRE® to co-create a limited-edition premium collection. Engineered in Amsterdam. Knitted in Italy. Produced in the Netherlands.
THE O'NEILL BIOFIELD JACKET DESIGNED WITH THE END IN MIND
The O'Neill Biofield jacket is our most innovative, biodegradable* outdoor jacket. With technical features including 10K/I0K waterproofing and breathability and PrimaLoft® insulation, it keeps you protected from the elements. And after years of enjoying your jacket, it can be biodegraded*. 
*Under the ASTM D5511 testing standards, the O'Neill Biofield Jackets biodegrade 94% after 4.6 years.
In our industry, packaging is essential in keeping our products safe and clean during transportation, whether they are headed to our warehouses, stores, or customers. We include a large share of either recycled or certified materials in our packaging, and our goal is to have 100% of our packaging reusable, recyclable, or compostable by 2025. Currently, the status is as below. 

ECOM BOXES: 
Made of 100% FSC-certified recycled carton
 
ECOM BAGS: 
Contain 80% recycled plastic 

RETAIL SHOPPING BAGS: 
Phasing out: Contain 40% recycled plastic 
New: Made of 100% FSC-certified recycled paper 

POLYBAGS: 
Phasing out: Contains 50% recycled LDPE 
New from 2023: Made of 100% recycled LDPE 
We continuously review the amount of packaging needed to ship our goods. 

BROWSE O'NEILL BLUE PRODUCTS